Monday, 25 May 2009 18:23
Russian Company Develops Equipment To Help Tackle Public Health in Africa
By Kester Kenn Klomegah
MOSCOW, April 2 (APA) - A Russian medical research and production company is looking to export its latest equipment to help tackle various health problems such as tuberculosis, malaria, HIV/AIDS and poliomyelitis, among others in remote rural areas of African countries, the board chairman of the National Telemedicine Agency (NTA), Michael Ya Natenzon, told APA in Moscow in an interview on Friday.
He explained that the decision to assist African countries stems from the fact that public health care delivery is still insufficiently developed and that hospitals lacked modern equipment and trained doctors in most remote regions in Africa.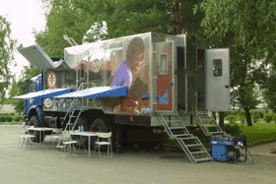 "The high portion of the population lives in the rural localities, the remote and almost inaccessible regions, where effective medical aid is absent, thus makes it necessary to ensure that the rural population receives worthy medical care," Natenzon said.
"Many economists consider poor public health and spread of diseases as the factors which restrain economic development of many African countries. For the solution to these problems, it is necessary to use contemporary medical technologies and methods of organizing the medical work," he added.
For the first time, the National Telemedicine Agency demonstrated tele-medical equipment and systems intended to be used in Africa in an exhibition in Johannesburg, South Africa in 1998 which generated great interest by some of the representatives of public health.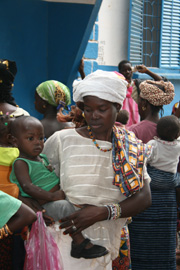 "The development of tele-medical systems and equipment was encouraged on the basis of the initiative of the former Russian President Vladimir Putin, supported by the Italian Prime Minister Silvio Berlusconi at the Group of Eight (G8) summit of leading industrialized nations held in 2003 as recognized technologies for dealing with the epidemics of AIDS, tuberculosis and malaria in the developing countries of Africa," Natenzon explained further.
The NTA demonstrated this system and its key element mobile tele-medical laboratory diagnostic complex on the world summit on the Information Society in Geneva in 2003 and obtained appreciation from the organizers of the summit of the International Telecommunications Union and participants at the summit.
The NTA was invited to another summit "Connecting Africa" in 2007 in Kigali (Rwanda), where it presented the standard design of national tele-medical system for Africa and the adapted solutions for all 49 participants in the summit.
Natenzon concluded that "the tele-medical technologies in combination with the mobile systems can guarantee the effectiveness of public health under the social and economic conditions in Africa, more specifically, in view of the advantages of tele-medical systems, they ideally are suitable and are accessible for the working conditions (in all climatic and geographical areas) in Africa with the insufficiently developed structure of public health and with the sharp shortage of qualified medical personnel." (END/2009)