Monday, 25 May 2009 18:44
WEST AFRICA: Combating World's Lowest Literacy Rates
DAKAR, Senegal, April 22 (IRIN) - Illiteracy rates in West Africa are the highest in the world, cramping development and weakening citizens' power to effect socio-economic and political change, say education agencies, who are calling on governments and donors to step up literacy and education efforts.
Sixty-five million West African adults – 40 percent of the adult population – cannot read or write according to a new study, 'From closed books to open doors – West Africa's literacy challenge'.


Of the 10 countries with the world's lowest recorded adult – 15 and older – literacy rates, seven are in West Africa: Benin, Burkina Faso, Guinea, Mali, Niger, Senegal and Sierra Leone, the report says.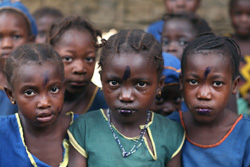 "Tens of millions of non-literate women, men and young people in West Africa are trapped behind closed doors, excluded from the living standards, educational opportunities, and democratic power that are their rights," said Mahamadou Cheick Diarra, coordinator of the African Platform for Adult Education (Pamoja).


The study was done by Africa-based education networks the African Network Campaign for Education for All (ANCEFA), Pamoja, and non-profits Oxfam International and ActionAid.


"People [in West Africa] cannot access jobs or economic or technical opportunities that have been shown all over the world to be driving development," said the report's author, Oxfam West Africa advocacy coordinator Caroline Pearce.


Impact


Every year of education raises a person's income potential by at least 10 percent, according to the UN-led Education for All coalition's 2009 monitoring report.


In Niger, Nigeria and Senegal the mortality rates among children of mothers with secondary education were about half those among children with uneducated mothers, EFA says.


"Investing in literacy is a better value investment than a bank bailout; it is the key to development," said Gorgui Sow, ANCEFA coordinator.
An educated population will also show stronger support for democracy, the report says. A recent study of 18 African countries found that education level was the most important factor determining levels of support for democracy and rejection of non-democratic alternatives.


Education activist and former child soldier in Sierra Leone, Ishmael Beah, told IRIN: "Education is not only something to get a career or change your socio-economic status, but it is a way you can begin to understand your government and demand more of it."


Yet in many cases in West Africa, even political actors lack the basic literacy and numeracy skills that are basic tools of planning, fundraising and reporting, the report says.

Progress


West African countries have made progress, says Pearce – while they are the lowest in the world today, they are still higher than in the 1990s.


Some West African states, including Benin and Liberia, mention literacy in their national development plans; others, such as Benin, Burkina Faso and Mali, have adopted non-formal education policies. But literacy commitments within these plans tend to be narrow in scope and fragmented, says the report.


"These commitments must not just be written in a policy but must be prioritised and accorded appropriate budgets," said Pearce.


Where is the money?

Education tends to be the biggest item in West African government budgets, according to Pearce, but no West African government is meeting the 7 percent of Gross Domestic Product (GDP) targets ministers pledged in 2005. Spending as a proportion of GDP ranges from 1.7 percent in Guinea to 6.6 percent in Cape Verde.


The Global Campaign for Education (GCE) meanwhile has called on governments to commit 20 percent of national budgets to education, which could fund literacy training for 6.5 million people if sustained over three years.


But even this is not enough, Pearce said. "Were Liberia to devote its entire government budget to primary education, it would still spend only US$220 per child versus the United States's current $9,138," she said.


Alice Tiendrébéogo, director of National Funds for Literacy and Non-Formal Education in Burkina Faso says the government cannot keep up with people's demand for literacy training.


"We can only meet about 60 percent of the requests we receive...We plan to increase literacy rates to 60 percent by 2015, which requires US$181 million, but since we were created we've only been able to leverage just over a quarter of that."


Total education aid to ECOWAS from Organisation for Economic Cooperation and Development donors rose from $500 million in 2005 to $1.2 billion in 2007, but 60 percent of this went to Nigeria, Ghana and Mali.


"Rich country aid to education in West Africa in 2007 was equal to just one per cent of what the US government spent on bailing out [insurance company] AIG alone," Pearce said.


When supporting education donors should pay more heed to literacy, the report says.


"Unless we see a real step-change in the pace of [literacy funding] we're looking at vast swathes of populations being shut off from development opportunities." (END/2009)