Wednesday, 28 August 2013 08:50
Nigerians in US: Taking Stock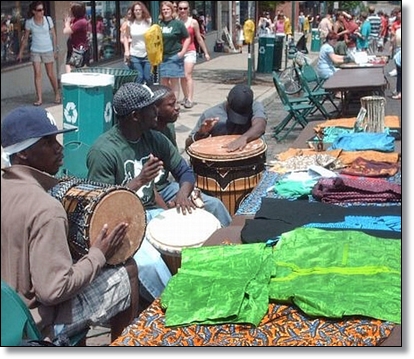 By Ejike E Okpa II
DALLAS, U.S., August 28, 2013 (The African Executive) -- The Deputy Ambassador of Nigeria to the United States says that there are currently five million Nigerians in the U.S. Anyone who believes this is duped. Although the first Nigerian reportedly came to US in 1918, that is 95 years ago, Nigerians' immigration did not peak until the late 1980s, barely 30 years ago.
Back in the mid-20th century, immigration to US was based on 'quota,' meaning that the number allowed was based on percentage of persons from a particular part of the world already in US. Therefore, Nigerians and other Africans could not have being beneficiaries of that policy. It was a trickle at the time. Given then 'blacks' were not considered for the immigration policy, their presence was no credit, therefore, no African nation benefited due to their presence.
Even at the peak of US issuing visas to Nigerians for studies and visiting, US records do reflect that in any given year, they issued 10,000 visas to Nigerians. It is important to note that majority of Nigerians came for studies and as things in Nigeria started to go 'south,' many by default remained and legalized their stay, sought the 'Green card' and became reluctant naturalized citizens, all happening in late 1980s and taking root since then. Very few Nigerians have been granted migrant visas, even with recent Visa Lottery.
Assuming by extrapolation that 10,000 visas were issued consistently each year since 1970 after the war ended, it means the physical number of Nigeria will stand at say 430,000, and no one has died or returned to Nigeria. Since Nigeria is not close to US, its illegal immigration number is insignificant, such that it is not noted or given weight.
Given how population is measured and counted, the number floated about Nigerians in US is overly exaggerated and unsubstantiated. It is bogus and cannot be defended. Here is an example of why the number is improbable. Let's assume that the 5 million number is equally or evenly distributed among the 50 states, it stands that there will be 100,000, in each state. That being the case, states such as Utah, Wyoming, Minnesota, The Dakotas and others with less than 1 million in population, will have significant Nigerians. It does not add up. Let's look at the 48 lower states – main land, the number jumps, again proof that the population estimate is bogus and very unlikely.
Nigerians' population concentration in US is in 4 sectors: LA, NY-NJ-Connecticut axis called Tri-States, Maryland-Virginia-DC axis and Texas – DFW and Houston – San Antonio, Houston having the dubious reputation of hosting the highest concentration of Nigerians. At best, the number of Nigerians in Texas may top 50,000. The Illinois-Wisconsin and Florida sectors are bare. In US mid-states, Nigerians are present but not in large numbers or concentrations. Persons of Scandinavian ancestry made up of those from Netherlands, Norway, Finland and Sweden are noted as being 16 million in US, and their migration is longer than that of Nigerians, going into centuries. No African nation has millions of their people in US. The entire US African-American population is estimated at about 40 million. That number includes Nigerians and other Africans. So what is the probability that the population of blacks in US is made of up of 12.5% Nigerians? Very improbable.
Although population studies and its estimates are tricky and often skewed by certain elements and factors, there is what is considered an acceptable margin in such endeavor. Nigerians population in US is rather exaggerated beyond the margin of error. A conservative estimate of Nigerians in US is best at 500,000 while 1 million would be seen as being optimistic.
Since Nigerians easily congregate at events and are known to show up at weddings and wake keepings, many have taken these as ways to measure Nigerians presence. No US Census Tract or Zip Code, has noted Nigerians presence to achieve a high digit number to warrant their mention. These are factors US Census uses to identify who is where and the make-up of a specific people group.
While numbers can say anything, when it comes to the population count in US, it is documented as a way to provide social services and plan for infrastructure. Nigerians are physically present in US but the typical measures to gauge and report who is where, has not captured their presence.
In the minds of demographers, Nigerians fall under the 'Other' category given that no Census Tract or Zip Code has noted their presence. Using documented models for immigration exercise, no nation has more than 5% of its population outside its geography. Consequently, only 8.25m Nigerians could be outside. Debatable though. Note, what is considered Nigerian in census count are persons in their first generation of living in another country with strong ties to their native country. There is no exact science on this method but it comes close.
Since Nigeria's Embassy put out such numbers, it has to be taken with a grain of salt given that they cannot even properly account the amount of money in passport renewals and have no resources to put out such population estimate. Nigerians pay less attention to details and credible sources to back their opinions or views. They must not be taken seriously.
Nigerians in US have no credit union, no well-run or organized associations or groups. Their presence is more like wilderness runs, with occasional shepherd with a loose flock. There you have it: It is what it is.
By Ejike E Okpa II
Dallas, Texas.
The author was member of US Census 2000 Complete Count Committee for DFW, participated on numerous workshops on the census and after the exercise was retained for post census recounts and simulations intended to perform sensitive analysis on the data.